Offseason Plans - Part 3
We've covered the hitters. Let's take a look at the pitching staff.
Starter - Clayton

Kershaw
I've been a member of the Clayton
Kershaw
Marching and Chowder Society since the spring of 2006. I squealed like a little girl when the Dodgers drafted him. I got chills when he made his first major league start. And in 2009, he justified all of my giddy optimism.
Not only was Clay the Dodgers' best starter, he was one of the best pitchers in the major leagues. He finished 8
th
in
MLB
in both ERA and
FIP
(Fielding Independent Pitching). He was 7
th
in K/9, 2
nd
in HR/9 and first in opponents batting average. And to accomplish all of this at the ripe old age of 21 makes a spectacular season even more impressive. The Dodgers did a good job of limiting his innings and holding him to strict pitch counts. In 2010, they should be able to give him a little more leeway. He'll need to make sure his tempo doesn't get out of whack, causing him to accelerate his lower body which leads to him struggling to catch up with his arm and results in erratic command. It'll be fun to watch Mr
Kershaw
mature even further next year.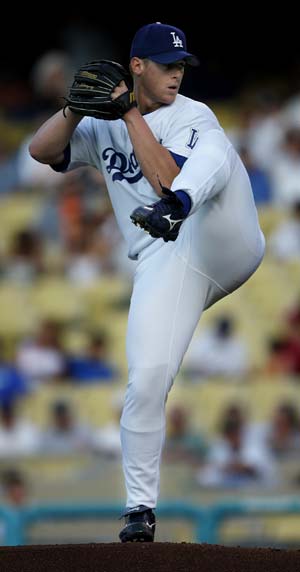 Starter - Chad

Billingsley
Billingsley's
name has come up a number of times as a potential trade candidate, which I'll address later. His 2009 campaign is widely viewed as a catastrophic failure, though I'm not so ready to give up on him.
Over the first 3 months of the season, Chad was one of the best starters in the National League. However, during that time, he made over 110 pitches in 10 of his 17 starts. In 5 July starts, he allowed a 7.52 ERA and had one of his shortest outings of the year, a 1.2 inning disaster in which he allowed 6 earned runs on 9 hits against the
Astros
. Then in early August, he came up with what Dodgers' trainers called a hamstring cramp that caused him to miss a start. He actually pitched better in August than July, but struggled more in September with another 1.2 inning appearance. His ERA ballooned from 3.13 through June to 4.03 to end the season.
To me, this says he was overworked in the first half and flattened out in the second. It could have had something to do with the fact that he broke his leg in the
offseason
and didn't get in his usual conditioning work before Spring Training. His problem could have been mechanical, since his stuff was consistent throughout the year. His command was inconsistent, which is the norm for
Billingsley
. Regardless of the cause of his second half swoon, he's still just 25 years old and entering his first year of arbitration eligibility. I'm not willing to write him off as a bust.
Starter -

Hiroki

Kuroda
The former
NPB
standout is entering the final year of his contract with the Dodgers, and while his season ended on a forgettable note,
Kuroda
is likely to be a major ingredient to the Dodgers' success (or failure) in 2010.
Hiroki
couldn't catch a break in 2009. After his first start of the season, he strained an oblique and missed the entire month of May. He struggled through the next 2 months, posting
ERA's
of 4.10 and 5.46 in June and July. Just as
Kuroda
was starting to turn things around, he was drilled in the cranium by a comeback line drive which landed him back on the disabled list with a concussion. After missing another 3 weeks, he was back on the mound and pitched well in September outside of a hard luck loss in his last game of the regular season. Then came the playoffs. He was left off the
NLDS
roster, but given a start in the eventual deciding game of the
NLCS
. Having not pitched in a game in 3 weeks,
Hiroki
was understandably rusty and lasted only 1.1 innings before leaving the game with a 6 run deficit.
Health will be a huge factor for
Kuroda
in 2010. He's not getting any younger, as he'll turn 35 in February, so even the greatest optimists will have to pray extra hard for him to amass 30 starts. The Dodgers are already thin at starting pitcher, so if he goes down, they'll be hard-pressed to find a suitable replacement. Guys like Josh
Lindblom
and Chris
Withrow
, while considered top prospects, likely wouldn't be able to step right in and contribute just yet. Don't be surprised to see an
NRI
either make the OD roster and wait in the wings in Albuquerque for an eventual, inevitable
callup
.
Reliever - Jonathan

Broxton
Ah, the pariah. And I'll admit, I was cursing his name after Game 4. Nevertheless, he's just a 25 year old kid who made a bad pitch. And had he thrown more than 2 sliders in that appearance, I have the feeling Dodger fans would be singing a very different tune right about now.
It all starts with the fastball for Jon, which was the 3rd fastest pitch in the majors. But his slider made him nearly
unhittable
. He turned it into a devastating pitch down and in on lefties (which would have been a great place to throw it to Rollins, dammit). That led to his amazing 13.5 K/9 rate, his 2.61 ERA and 36 saves. He was absolutely the best reliever in the majors last year and that shouldn't be forgotten by the Dodger faithful.
The Bull is entering his second year of arbitration eligibility and is due a fairly significant raise. He made $1.825 million last season and I wouldn't be surprised to see his 2010 salary approach $5 million. Regardless of how you may feel about Game 4, he's the Dodgers' closer for now.
Reliever - George

Sherrill
Acquired for third base prospect Josh Bell and pitching prospect Steven Johnson,
Sherrill
was originally seen as an emergency replacement at closer if
Broxton
faltered. However, The Bull finished the season strong and George did a great job of setting him up.
After being dealt to the
Oreos
in the Erik
Bedard
deal,
Sherrill
settled in as Baltimore's closer to begin the 2008 season. He compiled 31 saves, posted a 4.73 ERA and struck out 58 batters in 53.1 innings. In 2009, he was even better, lowering his ERA by more than 2 runs while lowering his walks and home runs allowed totals. Seeking some depth in the pen,
Colletti
pulled the trigger, bringing the 32 year old southpaw to the west coast. His time with the Dodgers during the regular season was remarkable. In 27.2 innings, he allowed just 2 earned runs, yielding a 0.65 ERA. After pitching in the AL East, he made the
NL
West look like A ball. He struggled a bit in the playoffs, but should be a part of yet another impressive relief corps in 2010.
Reliever -

Hong

Chih

Kuo
No, I couldn't find a picture of the bat flip. The bionic
Taiwaniac
(that's a word, right?) established himself as a dominant bullpen arm in 2008, throwing a career high 80 innings and posting a career low 2.14 ERA. Coming into the season, big things were expected of the 27 year old.
But his season nearly ended before it really began. He made 7 appearances in April, struggling through the last 4, before being shutdown with elbow problems. After undergoing his 4
th
left elbow operation (no, that's not a typo),
Kuo
seriously considered retirement if faced with another serious injury that required going under the knife. But he was lucky enough to rehab back to full strength and rejoin the club in late July. He pitched well, posting an ERA of 3 and gave the Dodgers yet another valuable arm in the pen.
The future is uncertain for
Hong
Chih
Kuofax
(TM). He has all the talent in the world, a rare lefty who can get
righties
out, but that oft-repaired elbow could blow at any moment. We'll just hope for the best and not think about the worst.
Reliever - Ramon

Troncoso
The flamboyant Dominican was better than his 4.26 ERA would suggest in 2008. He struck out a batter an inning, walked only 12 in 38 innings and allowed just 2 home runs. So it was not a huge surprise that he played a very important role in last season's clean-up crew.
Armed with a nasty 92mph sinker, the 26 year old induced 1.31
groundballs
per
flyball
in 2009. His ERA was 2.72 and he surrendered just 3
longballs
while leading Dodger relievers with 82.2 innings pitched. He doesn't have the gaudy strikeout numbers that you'd expect, but he's a very solid middle reliever who will continue to develop into a potential setup man.
Reliever - Ronald

Belisario
Big ups to the Dodgers' scouting department. A 4.74 ERA from a 25 year old in Double A wouldn't create much buzz among fans and organization personnel alike, but LA saw something the liked and invited Ronnie to spring training. He showed some wicked stuff, including a a 95mph fastball with movement and that earned him a spot on the Opening Day roster.
It wasn't all beer and skittles for
Belisario
, who missed most of July with a strained elbow and plead guilty to a drunk driving charge. But he came back with a bang, posting a 1.21 ERA after the All Star Break. A few bad outings in the playoffs can't tarnish a fantastic rookie season, and he'll be Dodger property for another 5 years unless they trade or non-tender him.
Reliever - James McDonald
Big things were expected of McDonald this year, as he entered the season as the Dodgers' best pitching prospect. And after a successful spring, he opened 2009 in
LA's
rotation. Though, while he didn't stick there, he found his niche in relief, pitching better than many expected in the role.
Displaying pinpoint command in the minors was supposed to translate to the majors, in theory. Then again, in theory, communism works. In theory. But it took 13.1 innings and 14 walks to convince Joe Torre and the rest of the Dodgers' brass that J Mac wasn't quite ready for a starting gig in the
bigs
. Some soul-searching in Albuquerque ended his second stint as a major
leaguer
in mid May, but not for long. He returned to the Dodgers in late June and did very well, posting an ERA of 2.72 coming out of the pen. He's still just 25, so there's a chance that he could get another shot at starting, especially given the Dodgers' need for arms.
Now, onto the fun part. In the 4
th
and last installment of my
Offseason
series, I'll look at what moves I think the Dodgers should (and will) make.